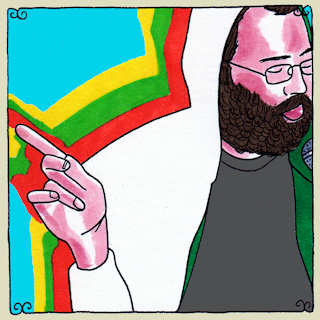 Here's some keyboard heavy music of a much different nature than the last two posts. Owen Ashworth may be my favorite songwriter of all time. Equal parts Raymond Carver, Willy Vlautin, Denis Johnson, Tom Waits, William Eggleston, William Carlos Williams, Jim Jarmush, Todd Hido, Charles Bukowski...notice only one of these people is another lyricist. Ashworth is a literary lyricist whose songs are these minimal modernist short stories about various characters who are generally down are the luck set to music composed mainly by Ashworth alone with preprogrammed beats and cheap electronic keyboards. The best thing about these songs is that you could see yourself or someone you know as the protagonist to all of them. They range in subject from everything such as robbing banks, getting abortions, dropping out of school, various old toyotas and volkswagens, and enjoying a little bit of Creedence Clearwater Revival to losing a grandmother's necklace, going to a party full of "friends you lost in [a] break-up," sleeping on couches, and getting killed by jelly fish. So, needless to say, I was devastated when I heard he was hanging up the CFTPA moniker and, I thought, quitting music entirely. While dreams of a novel kept me checking his website, I was delighted a few minutes ago when I went by the old CFTPA page and there was a post two days ago informing us loyal followers that his new project Advance Base is underway and they already have a few tracks up on myspace. Check them out
here
. CFTPA may hold the record for the most Daytrotter sessions recorded. He has 5 of them, each one better than the last. Links are below. If you don't already have an account with Daytrotter you should get one. It's free and you get a lot of free music with it. Just sign up and you can download these 5 sessions and more (they also have a sweet iPhone app). These 5 sessions alone are more than worth the time it takes you to sign up. Stand out tracks from the below sessions include "Blue Corolla," "Bobby Malone Moves Home," "Jeanne, if You're Ever in Portland," "Killers," "Tom Justice...," "Traveling Salesman...," "White Corolla," "Optimist vs. The Silent Alarm," and "Tonight was a Disaster."
Also, if you like what you hear, please go to the
CFTPA website
and support Owen. He's still got a lot of great shirts and records for sale. Or buy his most recent record
vs. Children
here.
It's amazing.